Mullion War Memorial
You may also find an entry on the War grave commission site. Click HERE to search their site.
Use the back arrow to return to this page.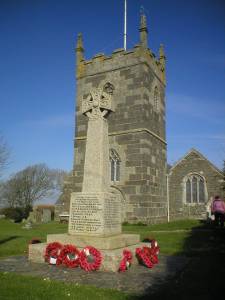 Give Rest O Christ
To Thy Servants With The Saints
Were Sorrow And Pain Are No More
Neither Sighing, But Life Everlasting
Alleluia
-----------------------
1914 - 1918 War
Capt. F C Eliot, M.C.R.M.L.I. - Capt. H S Smart, D.C.M. 53 Sikhs
Liet. W L Eliot, W.V. Regt. - T C Gilbert, R.N.R.T. - F Upward, A/B
Signaler A Gilbert, 2nd. Hamp. - Pte. L C D Eliot, Strathcana Horse
Pte. W F Jilbert, 7th City of London - Pte. C E Jilbert, 1st DCLI
Pte. F S Trewin, The Buffs
--------------------------
1939 - 1945 War
Major A J Head, RA - Lieut. John L Halliwell, RN - Flt/Lt. Samuel J Richards, RAF
Flt./Sgt. William R Bray, RAF - Flt./Sgt. David J Meikle, RAF - A/B. Albert V Brown, RN
A/B. Gilbert Thomas, RN - L/Cpl. William Johns, RAC - Tpr. Eric Bax, RAC
Pte. Aubrey Bryant, Q.R. Regt. - Pte. William T Simmons, 1st Ches. Regt.
Pte. Stanley King, RCLI
---------------------------

For further information on the parish click HERE