You may also find an entry on the War grave commission site. Click HERE to search their site.
Use the back arrow to return to this page.
0-0-0-0-0-0-0
To The Glory Of God And In Honoured Memory Of The Men Of This Parish Who Gave Their Lives In The Grear War 1914 - 1918
"Lest We Forget".
1914 - 1918 War
N. J. Andrew - J. P. Angove - S. V. Bray - J.H. Capel
J. Davies - T. H. Davies - J. George - W. H. Hampton
W. Hodge - T. Jewell - C.F.A. Jilbert - A. Keam
C. H. Lovelock - R. J. Paul - S. Provis - J.T.L. Sara
A. Stevens - J.H. Trevithick - A.J. Williams
J Williams - C. Wills -
- - - - - - - - - - -
Also Od Those Who Gave Their Lives In The Second World War 1939 - 1945
C. Bennetts - D. Bell - H. Bosanko - H. Bray
D. Bath - D. A. Cock - W. H. Collins - H. C. Clemo
A. L. Davey - G. Dower - Joan Ford -
J. Goldsworthy - G. Hole - J. W. Jenkin - S. Kemp
H. D. McGeorge - L. Mitchelmore - W. Maclean
A. Nile - W Orchard - A Pearce - E. F. Penlerick
R. Stead - W. J. Thomas -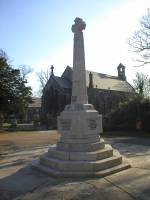 For further information on the Parish click HERE