St Keverne War Memorial
You may also find an entry on the War grave commission site. Click HERE to search their site.
Use the back arrow to return to this page.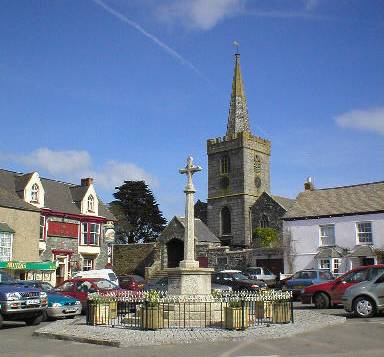 To the Glory of God and in abiding remembrance
of the men of St Keverne Parish
who gave their lives in the Great War
1914 - 1918
0-0-0-0-0-0-0-0-0-0
Sacred to the memory of the glorious dead
And to those who served in the
World War 1939 1945
Suffering, Sorrow, Deliverence,
VE - VJ Day 1945 -1995
St Keverne Celebrates 50 years of Peace
0-0-0-0-0-0-0-0-0
The names are displayed within the Parish Church

In Grateful Memory of the Men of St Keverne
Who Fell in the Graet War
Albert Auty - William H Bonfield - William Edwards - Thomas J Eustice
Frederick Freathy - Frederick C Freathy - Thomas J Hocking
William J Hocking - Sydney W Lambrick - Charles G Lobb
James H C Pearce - Mark L Retallack - Archibald Roberts
Frank J Roberts - Ernest Rule - James H Uren
0-0-0-0-0-0-0-0-0

In Memory of those in this parish who gave their lives
1939 - 1945
Frank Bonfield R.N - Richard Bowden M.N. - Thomas Clark M.N.
John Cruze M.N. - Francis Harvey M.N. - Adolphus A Hocking M.N.
W John P Hocking R.A.F. - William T Hocking R.N. - Annette B Hunter A.R.P.
Robin Kemp R.N. - Richard S Kevern R.N. - Stewart D L King R.N.
George Pearce R.A. - Richard Retallack R.N. - Henry Smitheram R.N.
George H. White R.N.
"We will remember them"
0-0-0-0-0-0-0-0-0
For more information on the Parish click HERE